According to Deputy Chairman of Bắc Giang Province's People's Committee Phan Thế Tuấn, from now until 2025 the locality will continue to pay attention to e-commerce development and international economic integration.
Bắc Giang sets a goal that by 2025, the entire system of supermarkets, commercial centres, modern distribution facilities, and facilities supplying public goods such as electricity, water and telecommunications will flexibly apply different electronic payment methods.
The province also aims to improve and maintain its e-commerce index, including the following indicators: human resources and information technology infrastructure; business – consumer (B2C), business – business (B2B), and government – business (G2B).
Online shopping has become a popular form of purchasing by consumers via electronic means. Sixty per cent of enterprises in the province have been participating in the locality's e-commerce trading floor and other platforms providing e-commerce service. As much as 50 per cent of businesses have their own websites to promote their brands and products.
From now until 2025, Bắc Giang will continue focusing on improving the capacity to manage and organise e-commerce activities; and fight against commercial fraud, intellectual property rights infringement and unfair competition in e-commerce.
In addition, the province will strengthen infrastructure systems and enhance the capacity of support services for e-commerce; promote the application of e-commerce to facilitate key export industries, expand consumption of domestic goods; and apply new technologies in e-commerce to support the digital transformation process of businesses.
The locality is also interested in organising e-commerce events such as those on Online Shopping Day – Online Friday, which has been approved by the Government to take place annually on the first Friday of December to bring practical benefits to consumers when participating in shopping; building a close, sustainable link among the business community, from manufacturers, distributors to providers of infrastructure services for e-commerce.
In addition, Bắc Giang is supporting businesses in deploying and encouraging people and firms to use secured payment solutions in e-commerce transactions; working out and implementing policy solutions to increase the proportion of domestic goods sold on online platforms; developing systems of business and consumer credit rating and authentication in e-commerce based on the participation of multi-stakeholders such as State management agencies, media outlets, associations, businesses and consumer protection organisations.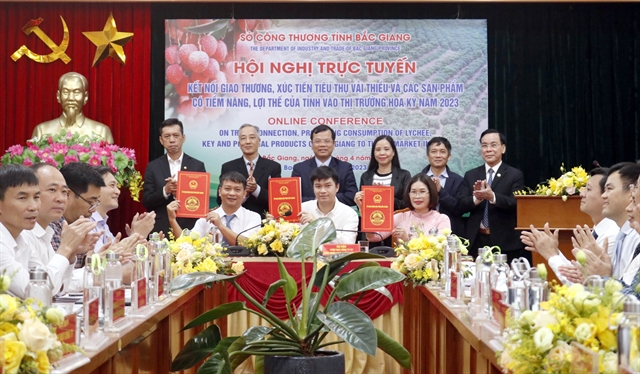 A memorandum of understanding on cooperation to export lychees to the US was signed in an online conference on "Trading connectivity, promotion of lychee and potential products of Bắc Giang Province to the US market in 2023"
Deputy Chairman of Bắc Giang Province's People's Committee Phan Thế Tuấn added that from now until 2025, Bắc Giang will continue to pay attention to effectively implementing the Prime Minister's Directive 26/CT-TTg dated September 4, 2018 on promoting international economic integration, consistent with the province's socio-economic development orientation and plan; accelerating international economic integration associated with unlocking the province's potentials and making full use of competitive advantages; accompanying and supporting businesses during the integration process; protecting natural resources, environment and sustainable development, while ensuring social security; and strengthening foreign affairs and investment attraction activities.
According to Bắc Giang Province's Department of Industry and Trade, since 2020, e-commerce activities have been carried out quite methodically by the province. In particular, training courses of setting up stalls and guidance on online trading skills have been provided for businesses, cooperatives, production facilities and farmer households, especially in the agricultural sector, to help them participate in major e-commerce platforms domestically and abroad.
Thereby, Bắc Giang Province's typical products have been sold and purchased via stalls on major global e-commerce platforms such as Amazon.com, Alibaba.com and domestic ones such as Postmart.vn, Voso.vn, Sendo.vn, Shopee.vn, Lazada.vn, and Tiki.vn.
Fifteen local businesses and cooperatives have been supported to build online brand identities, and design and build online booths to bring products to domestic and foreign e-commerce platforms such as: Sendo, Voso, San24h and Alibaba.com.
Regarding international economic integration, Bắc Giang Province's industry and trade agencies have been coordinating with media outlets and through information channels of Vietnamese embassies and trade counsellors in other countries and Consulates of other countries in Việt Nam to introduce the potential and strengths of Bắc Giang to domestic and foreign markets; proactively cooperating with Vietnamese representative agencies and related agencies abroad to support the province's businesses in expanding export markets, promoting trade, tourism and investment.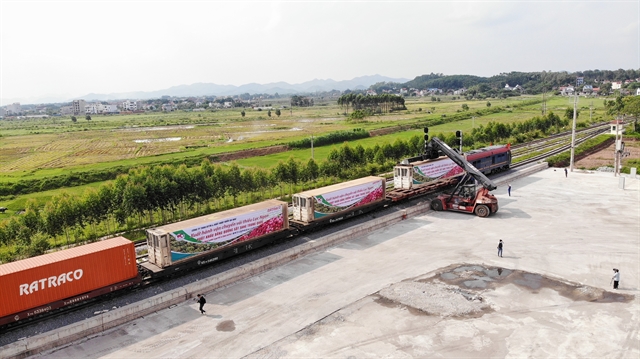 For the first time, Bắc Giang lychees are exported by rail through Kép international intermodal station in Lạng Giang District.
La Thị Xuân from Ân Trù Village of Tân Yên District's Tân Trung Commune is a retired teacher. Despite being over 70 years old, she and her husband are still actively producing and selling agricultural products every season such as thiềulychees, melons, taro and peanuts. Recently, she has used her personal Facebook page to advertise her products.
Xuân said: "I have recently harvested nearly one tonne of taro. After one day of making and broadcasting the product introduction video on Facebook, everyone registered to buy all of them. Most of the customers are acquaintances in the area, each person buys a moderate quantity, so my family transports the goods to customers by ourselves."
Along with selling agricultural products via social networks, Vũ Nguyên Bình's household in Quý Thịnh Village of Lục Ngạn District's Quý Sơn Commune also provides goods on the Postmart.vn e-commerce platform which is developed by the Vietnam Post. According to Bình, participating in e-commerce helps farmers be active, access modern digital technology, and find many customers both at home and abroad. Thanks to that, agricultural products have seen an expanded consumption market.
Lê Thị Tuấn, head of the Business Planning Department of Bắc Giang Province Post Office, shared that in the coming time the agency will continue to innovate its business, especially in the logistics stage. Rural digital commerce is also an opportunity for the postal industry to expand its scope of operations. Therefore, the provincial Post Office will always accompany and directly support farmers to participate in e-commerce, reduce intermediaries, and contribute to providing products with guaranteed quality and reasonable prices to consumers
Source: Vietnam News