Vietnamese tourism sector has made cultural products one of its priorities listed in the strategies for Việt Nam's tourism development by 2030 and for tourism product development by 2025, according to Nguyễn Trùng Khánh, General Director of the Vietnam National Administration of Tourism (VNAT).
Khánh made the statement at a forum on Việt Nam's cultural tourism development that recently took place in Hà Nội.
Addressing the event, he highlighted an urgent need to develop sustainable tourism in association with cultural and heritage value preservation and promotion.
Cultural tourism is also named among the 13 cultural industries of Việt Nam, he added. It is expected to account from 20 per cent to 25 per cent of total tourism revenue of about US$130 billion by 2030.
Vũ Thế Bình, Chairman of the Vietnam Tourism Association (VTA), named a series of local cultural tourism products, including tours discovering heritage in ASEAN member states and in central Việt Nam, as well as such festivals as the Huế festival of arts, Nha Trang beach festival, Hạ Long carnival, Central Highlands gong festival, and Đà Lạt flower festival.
Tours to craft villages, and real-world performances such as Hội An Memories Land, The Quintessence of Tonkin, À Ố Show are also a draw for foreign visitors, according to Bình.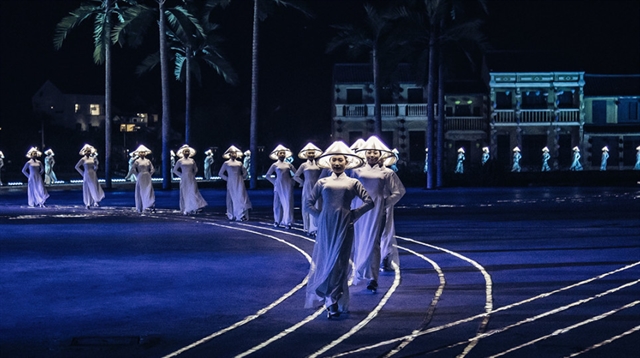 A scene in a performance of Hội An Memories Land. — Photo hoianmemoriesland.com
The country had been honoured in many international awards as a leading destination in Asia for heritage, food, and culture, Bình said.
According to Phạm Hà, Chairman of Lux Group, Việt Nam has a lot of valuable tourism resources, the four most prominent of which are culture, nature, cuisine and people. They are the gold mines for the development of cultural heritage tourism, leaving unique, emotional and memorable experiences for tourists.
"I want to integrate cultural elements into my tourism activities and products with the hope that visitors can 'touch' Vietnamese culture in a subtle and profound way, making their experience in Việt Nam memorable and, especially, to develop heritage tourism sustainably," Hà said.
Deputy Minister of Culture, Sports and Tourism Tạ Quang Đông introduced participants to a project on Vietnamese legacies, designed to promote the country's tourism and culture through art performances and sound and light technology in programmes lasting between 60-80 minutes.
"The world's experience has shown that promoting tourism via performing arts programmes is one of the fastest, most effective and most enjoyable approaches for visitors. Therefore, we should have art performances that uphold cultural values or exploit the treasure of Vietnamese folk stories. We really want to integrate more culture into tourism so that people can understand more deeply and thoroughly the beauty of traditional Vietnamese culture. This approach is also educational, attractive and suitable for people from all walks of life," he stressed.
Regarding the issue of attracting investors to develop cultural tourism products, the deputy minister said each locality should exploit its own strengths and thereby develop its own types of tourism and products.
The forum was part of the Vietnam International Travel Mart (VITM) in Hà Nội, with the theme Cultural Tourism. Lasting from April 13-16 and featuring 450 pavilions from 51 provinces and cities nationwide and 15 foreign countries and territories, the fair attracted over 60,000 visitors and representatives from 3,000 businesses.
Source: Vietnamnews