A decade ago, the penetration of electric two-wheelers in China stood at a mere 0.5%. Fast forward to today, and that figure has escalated to 19.7%. Similarly, the share of electric four-wheelers in China has grown from a nominal 1% to an impressive 15%.
These numbers reflect China's aggressive push toward sustainable transportation, fueled by significant government incentives, investments in charging infrastructure, and a commitment to cutting carbon emissions.
Meanwhile, Vietnam has seen its electric two-wheeler penetration skyrocket from 1.5% to 9.7%. This rapid growth has been driven by favorable government policies, increased consumer awareness about environmental sustainability, and advancements in EV technology that have made electric two-wheelers a viable and affordable transportation option.
Today, Indonesia stands on the precipice of a similar transformation, teetering on the edge of an electric vehicle revolution akin to those of China and Vietnam.
Recently, AC Ventures and the Electric Mobility Ecosystem Association (AEML) unveiled a groundbreaking report, offering an authoritative analysis of Indonesia's burgeoning electric vehicle sector. The report uncovers an EV market in Indonesia with a total addressable market already worth tens of billions of dollars, despite minimal adoption to date.
Reflecting on this, Michael Soerijadji, founder and managing partner of AC Ventures, observed, "With a total addressable market exceeding USD 20 billion and a confluence of key factors already at play, Indonesia's EV landscape is set for significant expansion."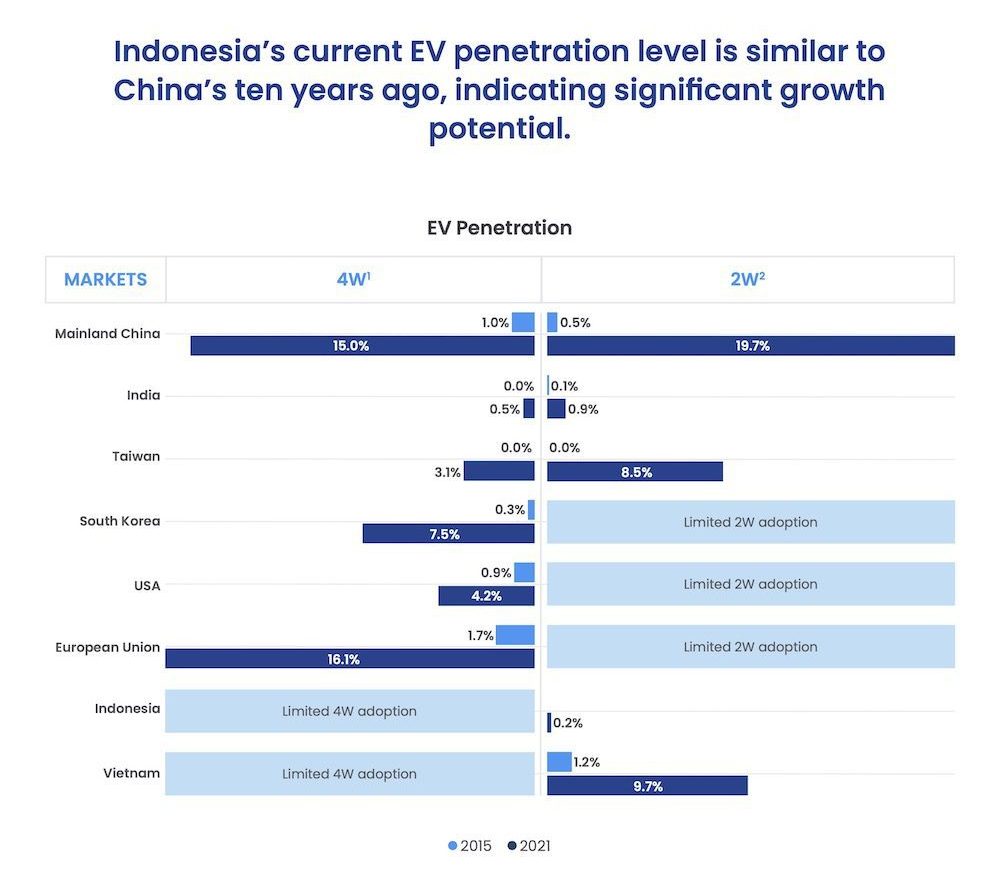 Indonesia has set ambitious renewable energy goals, aiming to increase the proportion of renewables to 23% of the country's energy mix by 2025, a considerable rise from approximately 9% in mid-2020.
The nation envisions a broader nationwide energy transition to be completed by 2056, aligning with its obligations under the Paris Agreement to cut emissions by 29% by 2030 and achieve net-zero emissions by 2060 or earlier.
The report highlights a convergence of key factors priming Indonesia's EV market for exponential growth. These include a surge in consumer demand, supportive government policies, and technological advancements that enhance performance while reducing production and ownership costs—similar conditions to those that enabled the rapid rise of EV adoption in China and Vietnam.
In Indonesia, EVs promise 75% greater efficiency and significantly reduced operating costs for businesses, suggesting the potential for the country's electric mobility market to grow at an astonishing CAGR of 58.5% until 2030. Further, EVs hold the potential to significantly reduce the nation's energy imports, currently amounting to USD 35 billion annually.
At present, electric motorbikes account for a meager 0.2% of Indonesia's two-wheeler market. However, the report suggests an opportunity for this figure to surpass 10% over the next five years, assuming effective collaboration between public and private stakeholders to nurture a thriving local EV sector.
Significant investments of resources and capital are already underway. Local brands and venture investors are forging deals and strategic partnerships, bringing global automotive giants such as Hyundai, Honda, Toyota, Mitsubishi, and Wuling into the sector.
Though still in its nascent stages, the Indonesian EV market holds immense potential. Entrepreneurs, stakeholders, investors, and policymakers who strategically position themselves today are poised to reap substantial benefits from this burgeoning market in the years to come. As it stands, Indonesia's EV landscape is primed for significant expansion, destined to play a crucial role in the global shift toward sustainable transportation.
Source: KrAsia