It is also the consistent motto of our Party and State, which has paid much attention and allocated resources to help nearly seven million people with disabilities in the country to have a better life.
Studying, working, earning a living and pursuing success and happiness are the dreams of people with disabilities.
It is also the consistent motto of our Party and State, which has paid much attention and allocated resources to help nearly seven million people with disabilities in the country to have a better life.
Nguyễn Văn Trung and Huỳnh Thị Ngọc Uyển, owners of Trung Uyển Blind Massage Centre at Lane 101 Đào Tấn Road in Hà Nội, are among the typical people who have overcome their inferiority and achieved a bright future for themselves.
The couple provides acupressure services. They also offer free vocational training and create jobs for people with similar circumstances.
Every day, the couple's centre welcomes about 100 guests seeking massage, acupressure, and lathering services each day.
Uyển was born in 1982 in a poor village in central Quảng Ngãi Province. She lived with her grandparents and an older brother.
At age seven, her eyes suddenly blurred due to degenerative retinal disease. All activities of Uyển depended on her older brother.
However, when Uyển was ten years old, her brother passed away after being bitten by a venomous snake. Despite these hardships, Uyển remained strong-willed and strived to improve herself.
In 2000, she began to learn Braille and then went to Hà Nội to study reflexology at the rehabilitation centre of the Vietnam Blind Association. She met Trung, who was in the same situation and later became her life partner.
"At that time, we had to overcome many barriers and prejudices to be together," Uyển said. "After learning the profession and doing it for a while, we realised the potential of massage and decided to establish our own business."
It was a challenging journey to make their dream come true.
In the early days, Uyển borrowed money from all her relatives and collected every penny to purchase equipment. The couple worked all day and read books and documents in Braille about massage skills at night.
Thanks to their effort to improve skills and their enthusiastic and attentive service, the centre has become increasingly popular, creating stable jobs for 12 visually impaired employees with monthly incomes of between VNĐ8-15 million.
"Starting a business is difficult, but with our efforts to overcome difficulties and perfect ourselves, we have fulfilled our dreams," Trung said.
"When we welcome a new employee, we always talk about our own circumstances. We hope to convey our message that they can become valuable to their family and society as long as they work hard and persevere," Uyển said.
Phạm Thị Thủy, an employee at the centre, was born blind and used to depend on her family. Her life has changed since she received training at Trung and Uyển's centre.
"I have had macular degeneration and retinal vein occlusion since childhood. My life was very difficult," she said. "Eight years ago, I learned about acupressure and was taught the profession by Trung and Uyển."
"Since then, I have been working an average of 8 to 10 hours a day, earning a stable income of VNĐ10 million per month," Thủy said. "This job is very suitable for the visually impaired like me."
Rising in life
Nguyễn Thị Kim Khanh, chairman of the Ba Đình District's Blind Association, said massage is one of the suitable professions for visually impaired people. It provides a stable income for the visually impaired but also gives them the confidence to rise in life.
Currently, Hà Nội has about 100 facilities run by the visually impaired, creating stable jobs and incomes for thousands of other visually impaired people.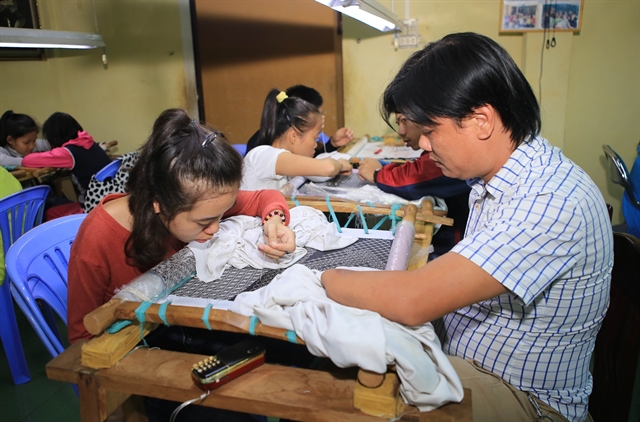 Embroidery is among the popular careers of people with disabilities. — VNA/VNS Photo Hồ Cầu
Apart from Trung and Uyển's business, there's another business model in Ba Đình District. Nhân Đạo Massage Centre, with annual revenue of over VNĐ200 million, has created stable incomes for seven visual-impaired members.
Khanh said people with disabilities always strive to work and reduce dependence on others, although there are many unfavourable conditions regarding health conditions and suitable jobs.
"In addition to jobs such as massage, acupuncture, embroidery and making toothpicks and brooms, there are new trends in vocational training to the visually impaired, such as telesales," she said. "The association has opened classes to create more job opportunities for members."
There are 169 visual-impaired persons in the district.
Đặng Văn Thanh, deputy chairman of the Vietnam Federation on Disability, said to the Vietnam News Agency on the occasion of Việt Nam Disability Day (April 18) that it is necessary to create the best conditions for people with disabilities to be able to integrate equally into the community.
Thanh said: "I think the most important thing for people with disabilities is to eliminate their self-doubt, erase their insecurity, and integrate into the community."
He said one of the obstacles and limitations is the perception of some people in society, even the family of people with disabilities, and the perception of people with disabilities themselves. In addition, some officials enforcing disability-related policies also have limitations in understanding and implementing the policies.
People with disabilities still face limited access to transportation, construction work, and certain policies. These limitations have affected their daily activities, creating barriers for them to integrate into the community fully.
To overcome these limitations, Thanh said the federation would promote and monitor the implementation of laws and international conventions and other support policies for people with disabilities in the coming years.
It will continue reviewing these policies to identify policy gaps and make recommendations to policy-making agencies, the National Assembly, and the Government for policy revisions, including the Law on People with Disabilities.
In the future, the federation will gather information from organisations and people with disabilities and make recommendations for amending the Law on People with Disabilities to help them better access the policies of the Party and the State, he added. 
Source: Vietnamnews