SINGAPORE: The main culprit in several wife-sharing rape cases carried out by men who met on an explicit online forum was sentenced to 29 years in jail and 24 strokes of the cane by the High Court on Thursday (May 4).
The 42-year-old Singaporean conspired with five other men to have his own wife drugged and raped over a period of eight years. He also conspired with two men to rape their wife or ex-wife.
The man, named only as J, is at the centre of the cases that the judge called "a shocking betrayal of marital trust and egregious sexual perversion".
J faced the most charges among the offenders, pleading guilty to five counts of conspiring to commit rape and one charge of sexual assault on Thursday. Another 11 charges were taken into consideration. He was previously represented by two different sets of lawyers, but dropped them and acted for himself.
All parties in the case cannot be named due to gag orders imposed by the court.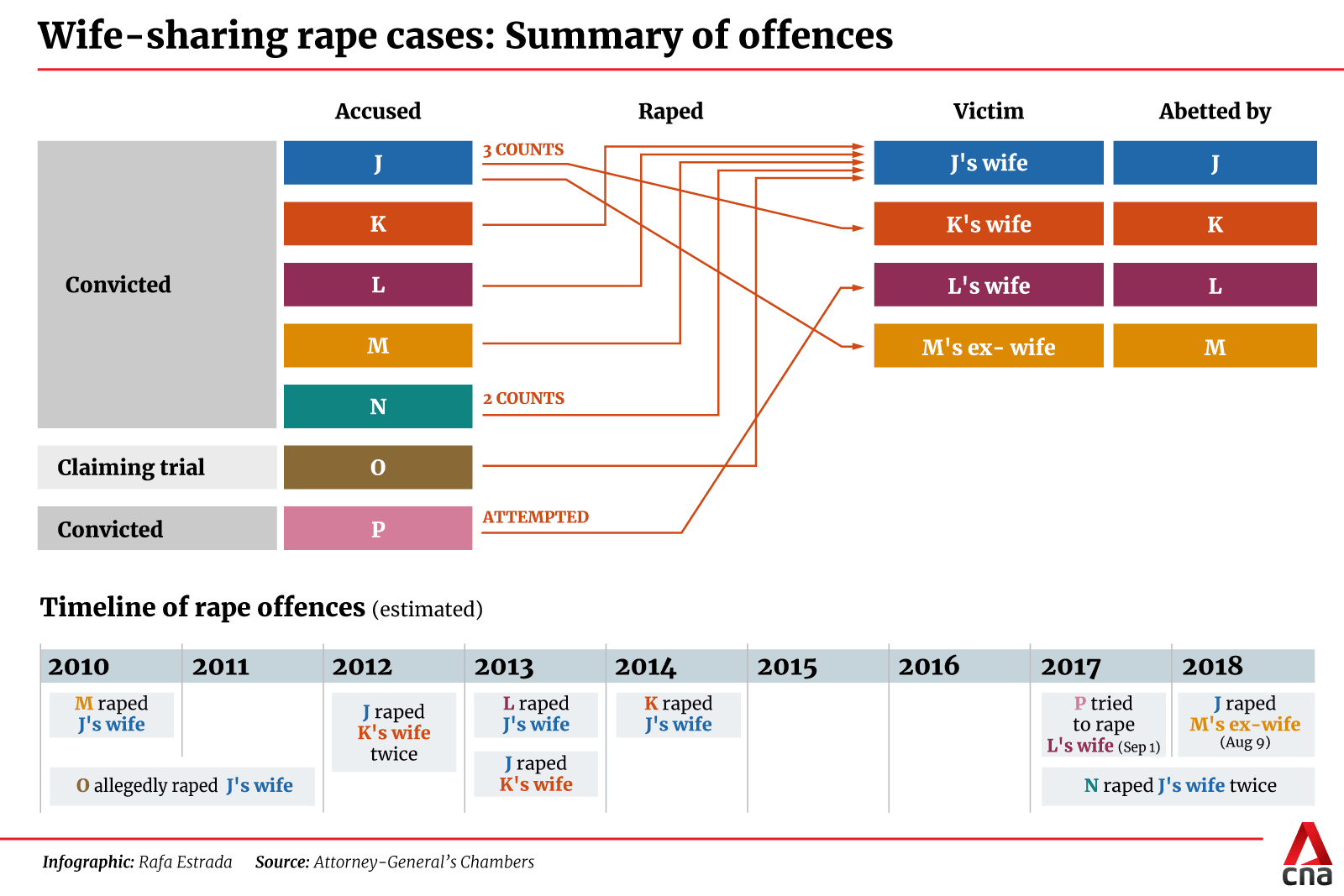 J, a safety officer, married his wife, now 41, in 2008 and have four children together. J asked his wife if she was interested in a threesome but was rebuffed, so he hatched a plan to sedate his wife for other men to have sex with her.
He met his six accomplices as early as 2010, on the forum Sammyboy and other platforms for wife-sharing fantasies.
Between 2009 and 2010, J got to meet accomplices O and K on Sammyboy online forum in a thread about wife-sharing.
Between 2010 and 2011, J's wife told him she was not feeling well. J pretended to feed her medicine but slipped her a sedative instead, causing her to lose consciousness.
J then got O to go over to his house to rape J's wife while the rest of the household was asleep. J felt "a mixture of guilt and arousal while watching", the prosecution said.
After this occasion, J conspired with other men to have them rape his wife in the same manner. He also conspired to rape the wife and ex-wife of two accomplices.
The case came to light when J's wife woke up before her husband in January 2020 and noticed a video playing on his phone. She saw explicit images of herself in a Skype chat with accomplice K.
As she scrolled down, she discovered that the men had been exchanging their wives for sex. She slapped J awake and got him to take her to K's home. The men were later arrested.
SENTENCING ARGUMENTS
A team of prosecutors led by Deputy Public Prosecutor Gail Wong asked for between 28 and 32 years' jail for J, along with the maximum 24 strokes of the cane.
Ms Wong said there was a "gross betrayal and abuse of trust", pointing to how J had planned to drug his own wife under the guise of feeding her medication before arranging to have his accomplices rape her.
In mitigation, J said he was pleading guilty to take responsibility and accept his "due punishment".
"Right now, my main concern is the safety of my wife as well as my children, so I would like to seek your honour's consideration in putting me to go for legal assessment and diagnosis of what's really going on in my mind," he said.
He asked to receive treatment so that he could "be considered safe enough to be returned to my home, my family, as my family nucleus is still very much intact".
J is currently receiving psychiatric attention and counselling in prison.
He claimed that his wife has forgiven him, but the prosecution rebutted this by reading from his wife's victim impact statement, where she said: "I kept thinking about how cruel he was to do this to me."
J also claimed that he committed the offences because his wife had affairs in 2010 and 2014.
He also tendered a letter from his mother, who asked the court to be lenient to her "filial" son who is a "responsible and loving good father" to his four daughters.
The prosecution said the psychiatrists involved agreed that J was not of unsound mind, nor was he incapable of controlling his impulses.
"Even if he has compulsive sexual addiction disorder, no mitigating weight can or should be given to a rapist who claims he is addicted to sex – all it means is he has a high sex drive," said Ms Wong.
She added that his depressed mood in prison was because he was fearful that his wife might divorce him while he was in jail.
In sentencing, Justice See Kee Oon said he did not accept that J's conduct was somehow mitigated by his supposed "addiction".
While J claimed to be remorseful, wanting to "atone for his sins", Justice See said he could not ignore how J's mitigation plea was replete with self-serving explanations and attempts to shift the blame to others.
In the plea, J said the offences were a retaliatory measure for his wife's alleged infidelity.
Even if she did have affairs, J himself also had affairs, the judge said. Any perceived grievance did not justify the offences regardless, he added.
He pointed out that none of the other co-accused were involved in more than five offences, while J was involved in 17. J stood in the dock appearing crestfallen with a mask below his nose as he listened to the sentence.
Four of the men involved – K, L, M and N – were sentenced in November, receiving jail terms of between 13-and-a-half years and 22 years. Three of them received 20 strokes of the cane, while the fourth did not as he was above 50.
The sixth man, P, was sentenced in January 2022.
The case for the last man, O, is pending.
Source : CNA