The scale and context of this year's Balikatan exercises reflect a shift in geopolitical concerns and Philippines' growing role in regional security
Manila's recent security moves may create the impression that it's writing Washington a blank cheque, and affect how it's viewed by its neighbours
Some 18,000 soldiers are taking part in the 38th Balikatan exercises, one of the biggest joint annual military drills between long-time allies the Philippines and United States. The exercises, which started on April 11 and will end on April 28, are double the size of last year's, with two-thirds of participants being American troops.
The scale and context by which the exercises take place, against the backdrop of tensions in the South China Sea and Taiwan Strait, mark a shift in Manila's foreign policy from hedging between two superpowers to picking a side in the escalating great power competition.
The drills began a day after Beijing concluded its military exercises around Taiwan, and on the same date as US and Philippine defence and foreign affairs ministers held their 2+2 dialogue in Washington, the first in seven years. It also came a week after both sides formally disclosed four additional agreed locations for US military access under the Enhanced Defence Cooperation Agreement (EDCA). Three new sites are in northern Luzon opposite Taiwan, and another is on Balabac Island facing the West Philippine Sea.
The new sites represent a bold step considering that none of the earlier five EDCA areas agreed upon in 2014 directly stared at any flashpoints. Basa Airbase in Pampanga is relatively close to the West Philippine Sea, but is still further inland. Antonio Bautista Air Base in Palawan faces the Sulu Sea. It is also the first time that a naval base – Camilo Osias in Cagayan – is included.
While the five original EDCA locations are existing Philippine military bases, the four new additions include one civilian airport (Lal-lo in Cagayan) and a remote island (Balabac) sitting astride vital surface and submarine traffic routes.
The locations for the exercises are also telling. Batanes province (less than 161km from Taiwan) and Ilocos Norte in Luzon are both in the north, while Zambales and Palawan are washed by the West Philippine Sea.
The exercise activities include maritime security, amphibious and aviation operations, live-fire training and cyber defence. In Zambales, participants will sink a target ship through coordinated land and air strikes, a first of its kind. In Palawan, allied militaries will simulate retaking an island captured by enemy forces.
The equipment that will see action includes mobile land-based Patriot and Avenger missiles and HIMARS rockets. If deployed in northern Luzon and Palawan, they can put targets in waters off southern Taiwan and the South China Sea within range.
These exercise activities and equipment are recent additions to Balikatan and may have greater resonance given growing regional tensions. For instance, the reappearance of US rocket and missile platforms raised speculation about their possible pre-positioning in agreed EDCA sites.
Spectre of conflict
These Balikatan exercises are instructive of revitalised alliance ties under President Ferdinand Marcos Jnr, who is barely a year in office. The EDCA has been renewed for 10 years with an expanded geographical scope, and the US supports "swift operationalisation" of the new sites.
As the US and China jostle for position in the region, accelerated work on the nine Philippine sites for US military access may soften any opposition from Asean members to China's involvement in expanding Cambodia's Ream naval base.
Aside from expanded US military reach, Manila also opened up to possible joint patrols in the South China Sea and a tripartite security arrangement with Washington and Tokyo. According to the joint statement issued after the 2+2 ministerial meeting last Tuesday, the Philippine and US navies plan to conduct "joint sails" in the strategic passageway with like-minded partners. But while this may be welcomed by Japan and Australia, other members of the Association of Southeast Asian Nations (Asean) may not be as enthusiastic.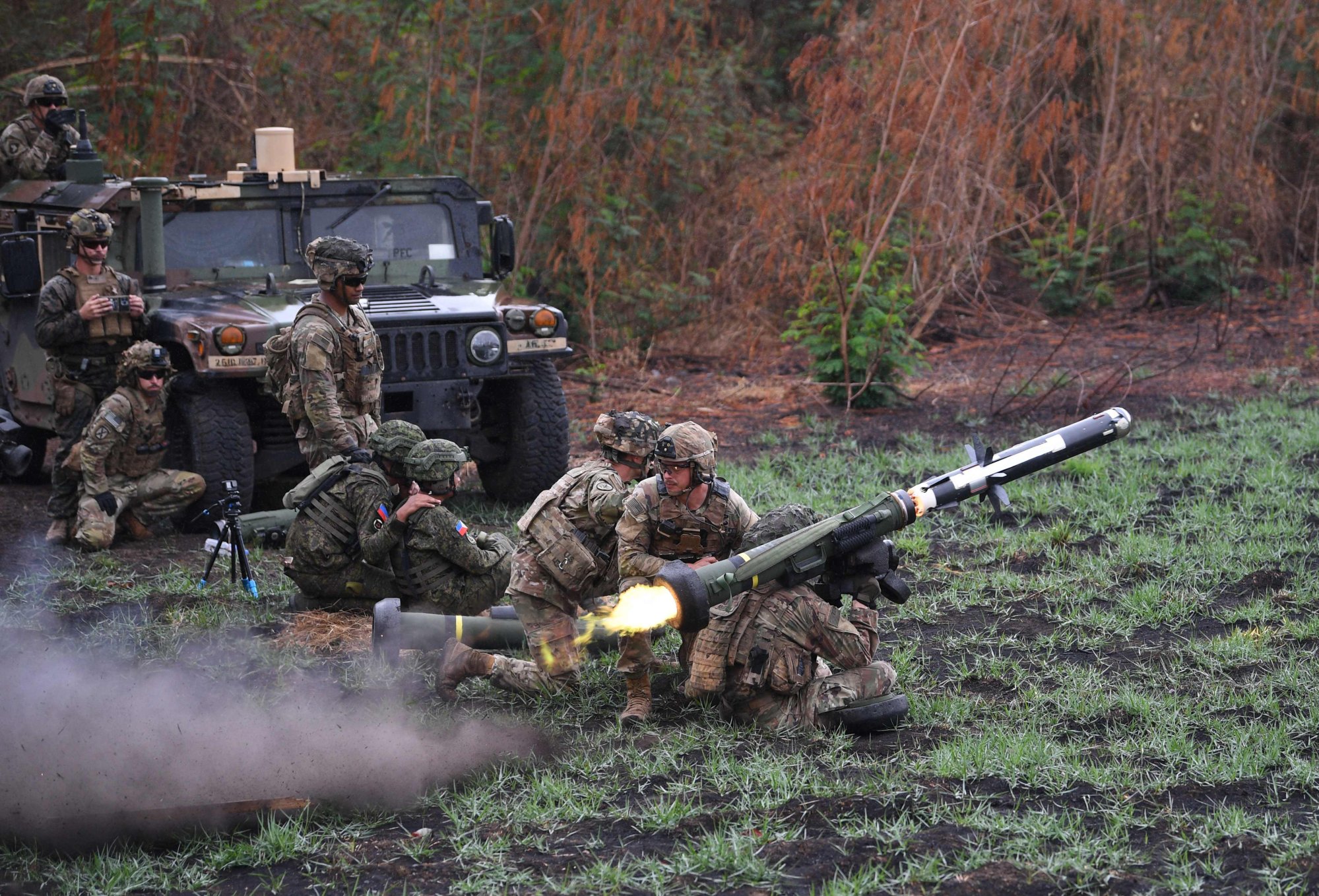 A US soldier fires a Javelin anti-tank weapon system as part of the Balikatan exercises on Monday. Photo: AFP
While taking part in multilateral exercises might not raise eyebrows, joint patrols are another matter altogether. The latter may be interpreted as signing on to America's strategy of integrated deterrence against China. It may also raise the spectre of accidents in choppy waters. Some may see the presence of foreign navies patrolling their maritime entitlements as a derogation of their sovereignty and jurisdiction. Bilateral and regional efforts at handling the disputes, including ongoing Asean-China Code of Conduct negotiations, could also be complicated.
US-led security arrangements – such as Aukus and the Quad – have caused unease in Southeast Asia and Manila's recent security moves in lockstep with Washington amid increasing tensions may also affect how the Philippines is viewed by its immediate neighbours. The speed at which these developments are taking place also creates the impression that the US is being given a blank cheque, a notion that the Marcos government should dispel.
China, as expected, expressed serious concerns over the Philippines' decision. Granting extra EDCA sites in northern Luzon makes Manila second only to Tokyo among US allies to step up for a possible Taiwan Strait crisis. In contrast, Australia clarified that Aukus was not premised on the country joining Washington in such a contingency.
Seoul could be reluctant to commit troops as well for fear of a possible attack by Pyongyang, despite having linked the security of the Korean peninsula to that of the Taiwan Strait in its Indo-Pacific strategy document. Economics is also a factor when it comes to US allies' comfort levels in working with Washington on matters Beijing deems red lines.
China's response may now be contingent on what happens next, notably the kind of platforms that will be put in place at EDCA sites and how "joint sails" in the South China Sea pan out. Beijing may up the pressure on Manila in contested waters and consider economic measures, such as curbs on tourism and imports of Philippine agricultural produce. China is known to come down hard on countries that toe the line of its rival and undermine its interests.
In making bold decisions, one prepares for the worst and hopes for the best. Whether this is the case for the Philippines, only time can tell.
Source: SCMP