Việt Nam's tourism industry intends to bolster the core values of its tourism brand. These values are centred around regional brands, local destinations, and tourism offerings, aiming for sustainable growth until 2030.
The Ministry of Culture, Sports and Tourism's recent marketing strategy highlights the emphasis on the nation's potential, distinctive cultural identity, exquisite cuisine, abundant heritage, welcoming populace, and stunning landscapes to deliver genuine, unparalleled, and novel travel experiences.
The impressive expansion of Việt Nam's tourism sector showcases its potent resurgence and progression, enhancing the nation's reputation and its citizens in the global eye, whilst steadily establishing its foothold on the global tourism stage.
Popular destinations
Canada's travel website, The Travel, selected the top ten most ideal countries for remote work worldwide, and Việt Nam secured the 7th position on this list.
The Travel noted that there was no place quite like Việt Nam, offering everything a traveller needed, including world-famous cuisine, friendly and hospitable people, affordable accommodations with excellent service.
Việt Nam also offered beautiful natural landscapes, including world-famous Hạ Long Bay, Tràng An, Phong Nha – Kẻ Bàng, and Phú Quốc, and lesser-known and hidden gem places such as Phú Yên, Quy Nhơn, Yên Bái, Cao Bằng, and Kon Tum.
The website also suggested the top ten trending destinations in the world, among which Ancient Hội An in central Quảng Nam Province was recognised as a worth-visiting city. It has been listed by UNESCO as a World Cultural Heritage site with its unique and prominent characteristics, especially at night, with thousands of colourful and sparkling lanterns.
A report by UK-based adventure travel company Explore Worldwide this June showed that Hà Nội had been ranked first in the list of the top 20 trending cities for solo travel while HCM City ranked sixth.
By analysing Google search data from the last two years, Explore Worldwide noted that Hà Nội was an ancient and vibrant city and HCM City, on the other hand, is a modern destination with great nightlife.
The Travel+Leisure Luxury Awards Asia Pacific 2023 has honoured the top ten cities in Asia for 2023, with Hà Nội and Huế, respectively ranked 6th and 8th. Huế was an ideal destination to explore history and culture, with well-preserved traditional values, impressive architecture, and exquisite artworks of significant historical and cultural value. In addition to royal cuisine, visitors could enjoy authentic specialities.
The TravelDailyNews, a news outlet covering Asia and the Pacific, has recommended Việt Nam as an excellent destination for motorcycle enthusiasts in Southeast Asia. The publication highlighted Việt Nam's diverse natural landscapes and colourful cultural heritage, which brought a unique experience for those riding across the country on a motorcycle.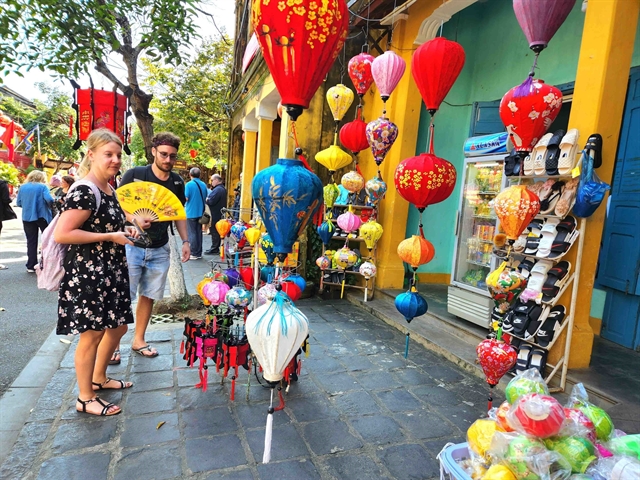 Hội An's ancient town is always an attractive destination for both domestic and international visitors. — VNA/VNS Photo Thanh Hà
Deputy Minister of Culture, Sports, and Tourism Đoàn Văn Việt said that over the past 63 years of development, Việt Nam's tourism has achieved many proud milestones, significantly contributing to the country's socio-economic development.
Figures from the ministry showed that the country welcomed 250,000 international tourists in 1990, and this number increased to 18 million in 2019 (normal time before COVID-19 pandemic), a 72-fold increase over 29 years. Domestic tourism also witnessed steady growth, from 1 million in 1990 to 85 million in 2019, with total tourism revenue reaching VNĐ726 trillion (US$29.7 billion).
After a prolonged period severely affected by COVID-19, Việt Nam re-opened for tourism on March 15, 2022, marking a significant turning point in reviving the sector.
In the first six months of this year, the total number of international tourists to Việt Nam reached over 5.5 million, while domestic tourists numbered approximately 64 million. Total tourism revenue was estimated at VNĐ343.1 trillion ($14.06 billion).
Vũ Thế Bình, Chairman of the Vietnam Tourism Association said tourism has played a crucial role in poverty reduction, economic restructuring, and transformation in many regions, particularly in remote and disadvantaged areas.
It has become a major economic sector nationwide. Việt Nam aims to resume its previous growth and become a leading economic sector in the near future, he added.
New policy, new opportunities
On August 15 this year, the new policy for entry, exit, transit and residence of foreigners in Việt Nam, which was approved by the National Assembly, took effect. The policy included issuing e-visas for visitors from all countries and extending e-visa validity from 30 days to 90 days, creating more favourable conditions for foreigners coming to the country.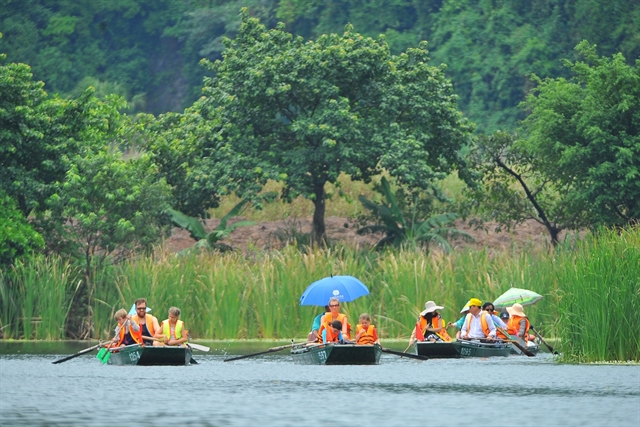 Foreign tourists enjoy boat tours around the Tràng An tourism complex. — VNA/VNS Photo Minh Đức
Hoàng Nhân Chính, Head of the Tourism Advisory Board's Secretariat, affirmed that the visa policy provided a significant boost for the tourism industry as the peak international tourist season approached at the end of the year.
By September, Việt Nam had already surpassed its goal of welcoming eight million international tourists this year, and the number of arrivals by the end of the year could reach 12 million, he said.
According to the analysis of the United Nations World Tourism Organization and the World Travel & Tourism Council, the new visa policy had the potential to increase the number of international visitors by up to 25 per cent each year.
Dr Phạm Hồng Long, head of the Tourism Department at the University of Social Sciences and Humanities, National University of Hà Nội, noted whether international tourists perceive Vietnam as an attractive destination largely depended on this policy.
Việt Nam was poised to attract more international tourists with longer stays, their spending would be expected to increase.
However, he said, it has posed challenges. Việt Nam's tourism products lacked uniqueness, creativity, and appeal. In addition, inadequate management of tourist destinations led to overcrowding during certain periods and instances of overcharging tourists. The quality of services did not always match the tourists' spending, resulting in unsatisfactory experiences and lower expenditures at destinations, potentially discouraging return visits.
Currently, the tourism industry is facing a shortage of labour following the COVID-19 pandemic, which has led to a decline in service quality, he added.
Chính said tourism was a multi-sectoral and multi-regional economic sector and the role of State management agencies was vital.
Recovery plans for tourism needed to be implemented with multi-sectoral cooperation to support the tourism industry. Tourism products needed to be innovative, flexible, and responsive to the evolving market needs following the COVID-19 pandemic, he said.
Source: Vietnam News