Vietnam's investment in hydro-meteorology must be one step ahead and carried out in a modern way to provide accurate weather forecasts and warning bulletins.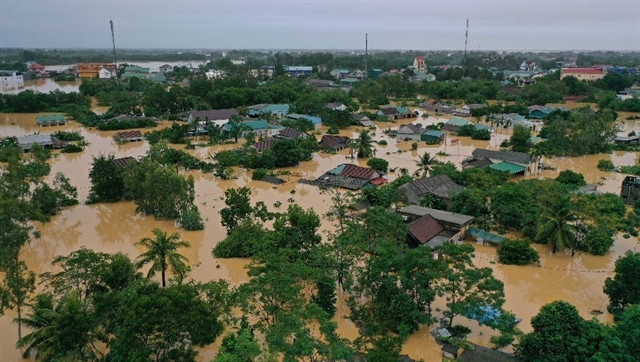 Many houses are inundated by floods in Thanh An Commune in the central province of Quảng Trị in October 2020. — VNA/VNS Photo Hồ Cầu
Hoàng Đức Cường, deputy director general of Việt Nam Meteorological and Hydrological Administration under the Ministry of Natural Resources and Environment, said the proposal was made while climate change is becoming more and more unpredictable with negative impacts, and it occurs even faster than the forecasts in the country.
Moreover, damage caused by natural disasters in Việt Nam is now also at a high level, he said.
Cường also said that it is necessary to increase investment from the State budget and diversification of domestic and foreign investment capital sources for hydro-meteorological works.
The administration will encourage and create all favourable conditions to attract organisations and individuals in hydro-meteorological activities to serve the needs of socio-economic development, he said.
It plans to accelerate the modernisation of the monitoring system, improve the forecasting capacity and implement the digital transformation of hydro-meteorological works.
It will boost international cooperation and selectively apply the preeminent results of hydro-meteorology in the world to develop the hydro-meteorological sector in Việt Nam, he said.
The sector also strives to reach the level of Asia region by 2030 to be capable of providing adequate, reliable and timely hydro-meteorological information and data to serve requirements of socio-economic development, natural disaster prevention, and climate change adaptation as well as ensure national defence, he said.
"By 2045, the sector's capacity is scheduled to reach the same level as developed countries' hydro-meteorological sector in the world," Cường said.
Challenges
Climate change has been exerting a profound impact on all fields of socio-economic development in Việt Nam, according to the administration's report on the implementation of "Resolution No. 24-NQ/TW on proactively responding to climate change".
The report said extreme weather phenomena are on the rise in recent years. Storms and tropical depressions have shown very unusual developments.
Statistics show that from 2009-19, the total damage caused by natural disasters to Việt Nam reached nearly VNĐ250 trillion (US$10.5 billion) and killed 2,500 people.
In 2018, more than 13 storms and tropical depressions, 212 thunderstorms, 14 flash floods, landslides, 30 large-scale torrential rains and major floods in the upstream of the Mekong River had caused a damage estimated at VNĐ20 trillion ($841 million) and killed 218 people.
"This has been one of the biggest challenges for the hydro-meteorology sector," he said.
Besides, the problem of exploitation and management of water resources of the Mekong River as well as the gap of hydro-meteorological data in the East Sea, especially in the southwestern sea and coastal areas of the country, are also posing other challenges for the sector, he said.
It requires solutions and strategies to response at the national level, he said.
At the central level, the management of hydro-meteorological activities is still scattered in a number of sectors such as aviation meteorology, agriculture, maritime, inland waterways, national defence, natural disaster prevention and control, he said.
The system of legal documents and technical regulations governing hydro-meteorological forecasting and warning activities, is believed to be incomplete and inadequate compared to the requirements of State management on hydro-meteorology, he said.
Notably, the hydro-meteorological monitoring network is still sparse. Forecasting the amount of rainfall and rain caused by storms is still limited in both accuracy and forecast time, especially in hourly rainfall forecasts and extreme rain in a short period of time, he said.
At the local level, violations in the field of hydro-meteorology have not been thoroughly resolved due to legal problems, he said.
The exploitation and use of hydro-meteorological information and data for building local projects and works have not been given due attention in many localities, he said. 
Source: Vietnam Net