Germany has successfully supported Việt Nam in building a legal system on land environmental management, implementing projects on restoring degraded land, strengthening the capacity of officials in managing and protecting the land environment, as well as facilitating equipment for analysis of heavy metal pollution in contaminated land areas over the past 20 years.
Germany also shared with Việt Nam knowledge about scientific foundations and land environmental management over the past 20 years, said Hoàng Văn Thức, head of Pollution Control Department under the Ministry of Natural Resources and Environment, at a workshop held on Hà Nội on Tuesday.
The workshop was organised to celebrate 20 years of cooperation between Việt Nam and Germany in protecting the land environment.
Thức also said that the two decades of cooperation between Việt Nam and Germany in protecting the land environment began in 2004 when Germany's Federal Ministry for the Environment, Nature Conservation, Nuclear Safety and Consumer Protection, and Việt Nam's Ministry of Natural Resources and Environment, co-implemented the project "Scientific basis for identifying contaminated-land areas in Việt Nam" in 2005-09.
During the 20-year cooperation, the two ministries signed two strategic cooperation agreements in the field of environment as a basis for effectively implementing many cooperative activities on land environmental protection between the two sides, including Memorandum of Understanding dated September 16, 2015 on cooperation in environmental protection and climate change, he said.
A series of projects over the years had been carried out to support Việt Nam in protecting the land environment, such as "Basic concepts to identify land reclamation tools" implemented from 2011-12; "Climate change through energy crops" implemented from 2015-25; and "Building digital soil pollution maps" implemented from 2017-24, he said.
Through close and effective coordination between the two ministries, the cooperative relationship between the two countries in the field of land environmental protection had been increasingly enhanced, he added.
The Federal Republic of Germany was considered a long-standing traditional partner and one of the partners that coordinated with Việt Nam's Ministry of Natural Resources and Environment to conduct the most projects in the fields of climate change and environmental protection, ocean plastic waste management, and water resources management, he said.
"Of which, protecting the land environment is one of the priority areas," he said.
Michael Zschiesche, director of Germany's Independent Institute for Environmental Issues (UfU), said both countries had the same size and it was a good starting point when Việt Nam had made much progress over the past years in tackling contaminated-land issues that came from industry and also other sources.
"Vietnamese Government and authorities are working hard to tackle the problems with land management, also contaminated land," he said.
They learned from the experiences of Germany, he said.
"I am very optimistic that our way to tackle our problems in Germany also is a good model in Việt Nam," he said.
Challenges ahead, recommendations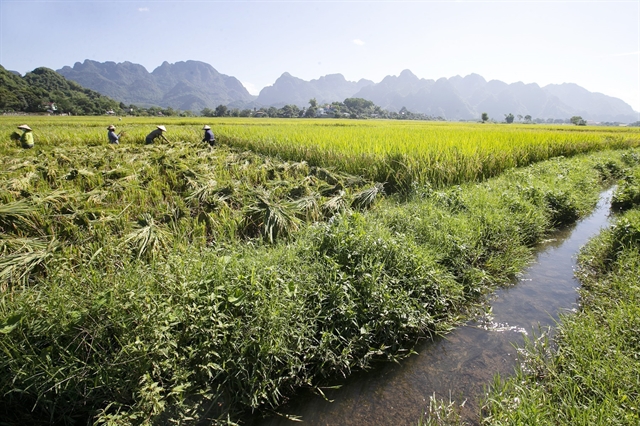 Farmers at a local rice field in Kim Bôi District in the northern mountainous province of Hòa Bình. — VNA/VNS Photo Trọng Đạt
According to Thức, along with rapid development, Việt Nam was also facing many environmental challenges, of which land resource degradation was an issue that needsto be addressed.
Ngô Thanh Sơn, head of Resource Management Department under the Việt Nam National University of Agriculture, also said that the process of Việt Nam's socio-economic development was taking place rapidly, leading to a lot of land use changes, mainly changing from forest land to annual crop land, which would reduce forest cover and cause very high risk of erosion.
When planting annual crops, such as cassava or sweet potato, growers often used a lot of fertiliser, which was one of the risks of soil pollution, he said.
In addition, Việt Nam was one of the countries greatly affected by climate change, especially extreme weather phenomena, drought and salinity intrusion, which has worsened land resource degradation in the Mekong Delta, he added.
It was estimated that Việt Nam has a total of 33 million ha of land, including over 10.2 million ha of agricultural land, he said.
Of the total of 33 million ha of land, 70 per cent of the total land is poor in Phosphorus and 60 per cent is poor in Potassium, he said.
Talking about future cooperation, Thức said Việt Nam asked Germany to continue their support for Việt Nam in the future.
The support included helping Việt Nam to improve the system of policies and laws on management and control of land environmental pollution; building facilities and training human resources to collect and manage databases on soil pollution; and strengthen the capacity to analyse and evaluate soil pollution for laboratories of the Ministry of Natural Resources and Environment, he said.
Besides, Việt Nam also suggested Germany cooperate in managing, renovating and restoring polluted land areas according to market mechanism orientation; managing and rehabilitating polluted land according to the principles of reducing carbon emissions and adapting to climate change; and building multi-objective models to improve and restore polluted land, he said.
In the meantime, Sơn said the two sides were advised to conduct research to show the importance of protecting land resources in order to reduce land resource degradation in the future.
They also needed to issue good cultivation models for farmers to apply, and then multiply them, he said.
For example, crop residues could be distributed on the fields to protect the soil. When the crop residues were fed to livestock, the animal manure could be used as fertiliser, he said.
This would increase organic-matter content for the soil and improve the soil structure, he said.
Source: Vietnam News