Academic pressure has been a long-standing concern in Việt Nam's education system, despite efforts from schools and the government. Constant educational reforms and fierce competitiveness are partly to blame, yet it lies mainly in the attitude toward education of Vietnamese parents.
I recently came across a TV programme about healing relationships between children and their parents, and it was unbelievable to hear how hard it was for the little girl to struggle with bad grades and extra classes.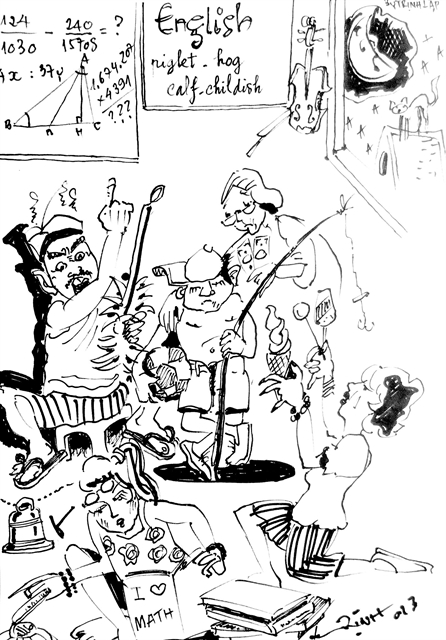 Illustration by Trịnh Lập
She said unless she achieved a perfect ten, her mom would perform corporal punishment on her, in particular, hitting her with a stick three times if she got a nine, and double the times for every lower score.
Coupled with that, she also had to squeeze in multiple extra classes aside from a regular school schedule, including classes for core subjects like maths and science and other training courses for being a model and an MC.
The girl's mom, for her part, said her being strict was only to benefit her child, and she deemed it reasonable for children to have extra classes to fully develop.
While extra classes are meant to help students who are behind their peers and prepare them for important exams with additional instructions, most parents have been focusing on quantity over quality, thinking the more extra classes their children attend, the better they will be.
And as this mindset has thrived to be a "standard", it has led to adverse outcomes.
During my school years, I saw many of my friends being so sleep deprived that they fell asleep during lessons or even skipped extra classes since they were extremely exhausted after school. It was ironic how they were expected to perform better, but ended up being worse.
Apart from being stuffed with extra classes, most Vietnamese students have less freedom in choosing their educational paths, such as having to get into a specific school or take a major preferred by their parents.
Twenty-year-old Thanh Vy says she failed to persuade her dad not to force her to get into pharmacy school, as he says it is the family tradition and it is for his pride to tell others that his children study pharmacy.
It is not completely wrong for parents to believe that having a place in a top school or mastering a field is a golden ticket to success, but are parents pushing this for their children, or for the sake of their own pride?
My friend Bảo Ngọc agrees, saying that parents usually see their children as a means to pursue their unfulfilled dreams.
Moreover, as education is believed by previous generations in Việt Nam to be the gateway to a prosperous life, they have become harsh and demanding towards their children's education, Ánh Minh, 22, says.
Huyền Trang adds, "Many see their children's academic achievements as their success as parents, which does them proud when sharing with others. Therefore, their standards have gone beyond their children's learning ability."
As a result, over-expectations among parents have burdened children with the responsibility of making their family proud and precluded them from opening up about their learning barriers, making it hard for both parents and children to communicate effectively.
In April last year, a heart-breaking story of a student taking his own life after confronting his dad about the pressure he endured being a perfect student was a wake-up call on how serious this problem is in Vietnamese society.
Along with that, it is the extreme academic competitiveness that has caused a rampant "fear of missing out" among Vietnamese parents.
Thanh Tâm, a mother of two from Gò Vấp District (HCM City), tells Việt Nam Newsthat she had to register for a Vietnamese language class for her 4-year-old daughter since she does not want her to stay behind her peers going into first grade.
During summer, it is not hard to find additional education centres and private tuition centres packed with parents registering for summer courses.
Thành Luân, 47, tells Việt Nam News that it is better for his son to sacrifice his summer holiday to prepare for the new school year, and that getting acquainted with new lessons beforehand can help him achieve greater academic results.
In an Eastern culture where educational achievements are a measurement of one's social status and success, performing well in school and being ahead of their friends are deemed mandatory by many parents. They constantly compare their children to others and brute force them to do what others are doing so as to be as good as their peers.
On the flip side, I am heartened to see many parents going against this phenomenon. Thanh Thủy, 50, says she never forces her children to take extra classes unless they want to, and she only encourages her children to do their best.
"I find this helps initiate children's innate will to self-study better than putting more pressure on them," she says.
Since this problem lies in the mindset of the majority of parents, I venture that it is difficult to have any rigid judgement or solution, yet bridging the generational gap between parents and children through mutual understanding is among the viable approaches.
Parents should pay more attention to their children's education by referring to their learning capability and academic record to deliver effective communication and suggest suitable solutions.
"They should support and trust their children rather than micromanaging and having high expectations," Ngọc says.
Moreover, the education system should be transparent and equally support students, Quỳnh Chi suggests, adding that it should not promote the excessive importance of rankings among students but the improvement throughout their development journey.
There has also been a rise in TV programmes which aim to change parents' educational perspectives and rekindle their relationships with their children. Advice from psychologists and pedagogical officials in these shows has not only eased the way for children to speak up but also helped parents make informed decisions.
Needless to say, both parents and students should be involved in making educational decisions. With joint efforts from schools and parents and a deep understanding between parents and children, academic pressure can be lifted.
Source: Vietnam News