Jimmy Phạm is the first Vietnamese-Australian man to win the Waislitz Global Citizens' Choice Awards for his work to end extreme poverty. Since the day he received the award in 2021, he has continued to contribute to reducing hunger in Việt Nam. Thu Ngân talks to him about his inspiration and plans
Inner Sanctum: When and why did you decide to come back to Việt Nam after many years living in Australia?
I went back to Việt Nam in 1996 to work for a travel wholesaler. One day, while I was in HCM City, something remarkable happened that would have a profound impact on my life. I encountered four individuals who were among the many marginalised people known as the "dust of life".
Over the course of the following two weeks, I invited them, along with 60 others, to join me for dinner, where we shared bowls of phở and engaged in meaningful conversations.
During one of these encounters, I had a transformative moment that solidified my decision to return to Việt Nam. I saw a young girl who was being pursued by her mother, wielding a steel pipe and subjecting her to physical abuse.
It was at that moment I resolved to become the catalyst for change, embodying the transformation I wished to see in the world.
I subsequently returned to Australia, secured a job as a tour leader, and immersed myself in studying Việt Nam, reading books to deepen my understanding.
Armed with a mere US$200 and fuelled by an unwavering passion to make a difference, I embarked on a journey to create positive changes in Việt Nam.
I, as a tour guide, had the opportunity to travel along Highway 1, and there was a particular sign that caught my attention: "Children today, the world tomorrow". This resonated deeply with me because everywhere I went, I witnessed the presence of poverty.
Between 1996 and 1999, as I travelled and encountered children in need, I made it a point to offer assistance, whether it was providing financial support or arranging English classes for them.
I later realised that my efforts, however, were akin to giving them fish to eat every day without teaching them how to fish and ensuring their sustenance in the long run.
Four years later, the children I had been helping expressed their trust in me and conveyed a need for something more profound: they desired job opportunities. This marked the beginning of a new chapter in my journey. I took on the responsibility of teaching them how to fish by establishing a small sandwich shop.
Through this endeavour, I not only imparted practical skills to them but also fostered a sense of family, self-worth, and a hopeful future. This marked the inception of KOTO, which stands for "Know One Teach One".
It is an organisation that I founded with the belief that by sharing knowledge and skills with others, we can create positive change in their lives and empower them for a better future.
KOTO focuses on providing vocational training and education to disadvantaged youth, particularly those who have faced poverty and other difficult circumstances.
The philosophy behind KOTO is based on the idea that if we "know one" person and teach them valuable skills, they can in turn pass on their knowledge to others, creating a ripple effect of learning and growth.
Inner Sanctum: What have you done up to now to carry out those projects?
KOTO has proudly graduated more than 1,500 empowered hospitality heroes who are actively contributing to the growing tourism and hospitality industry. However, our commitment to our alumni goes beyond their graduation. We firmly believe that they hold the key to KOTO's sustainability. Therefore, we have taken additional steps to invest in their development.
We provide ongoing support to our alumni through various means, such as leadership training, opportunities for overseas job placements, and scholarships for university education.
By doing so, we aim to empower our graduates to become leaders in their respective fields and make a lasting impact in their communities. We believe that by nurturing and supporting our alumni, we create a strong and interconnected community that continues to extend help to others.
Our vision is to create an all-inclusive world where no one is left behind. To achieve this, we are actively working on building an ecosystem of social impact projects. These projects range from initiatives like food rescue and nourishment programmes for the underprivileged to women empowerment initiatives and hospitality training for at-risk and disadvantaged youth.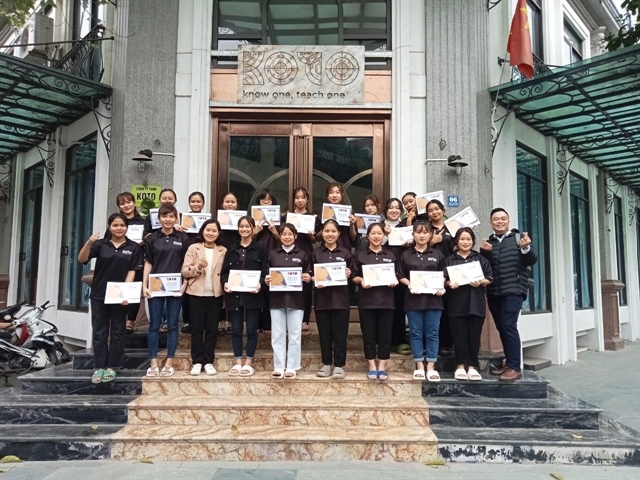 Young people who join vocational training and education programmes at KOTO. KOTO is an organisation that Jimmy Phạm founded with the belief that by sharing knowledge and skills with others, 'we can create positive change in their lives and empower them for a better future'. — Photo courtesy of Jimmy Phạm
Inner Sanctum: What have been the difficulties you have faced when implementing the projects?
Over the past 25 years of operations, we have faced numerous challenges. From educating the community about the importance of supporting social products and services to financial hurdles, we have remained steadfast in our commitment to providing free education.
Despite these challenges, we have made remarkable progress. We have been providing a platform for ethnic minority women, amplifying the voices of those who often go unheard. Additionally, we have focused on addressing the issue of food surplus to ensure it doesn't go to waste when there are still people suffering from hunger in Việt Nam.
As a young nation, Việt Nam has made significant strides, but there is still much work to be done. We believe that there is a need to raise awareness and continue our efforts to bring about positive change.
We remain committed to our mission of creating a more inclusive society and will continue to navigate the challenges that lie ahead. Through perseverance and a collective effort, we can build a brighter future for all in Việt Nam.
Inner Sanctum: Another project, VietHarvest, has been recently expanded in the country. Can you please tell more about that?
VietHavest is a not-for-profit social enterprise. The mission of VietHarvest is to rescue surplus food and distribute it to those in need, while also advocating for reducing food waste and creating a more sustainable food system.
VietHarvest was founded by myself and Lousie Trần, also a Vietnamese-Australian who has also worked over 10 years for OzHarvest, which is the model that we have replicated. VietHarvest's mission centres around fighting food waste, combating hunger, and creating a more sustainable and inclusive society. Through their actions and advocacy, they strive to make a positive impact on both people's lives and the environment.
Inner Sanctum: What are your plans in the future to help more people in Việt Nam?
We are grateful for the recent support we received from Quỹ Thiện Tâm (Kind Heart Foundation) of Vingroup, which has allowed us to fulfil our vision of constructing a dream school. This partnership enables us to establish a world-class vocational training facility for at-risk and disadvantaged youth, amplifying our impact in helping more young individuals in need.
Moreover, this support opens doors for us to expand our model to other regions. By scaling our efforts, we can create a greater impact in the realms of education, leadership development, empowerment, and environmental sustainability. With this collaboration, we are poised to make a significant difference in the lives of even more individuals and contribute positively to society. 
Source: Vietnam News